Development News
Nature of the Dog receives first dog walking certification in GR, expands coverage area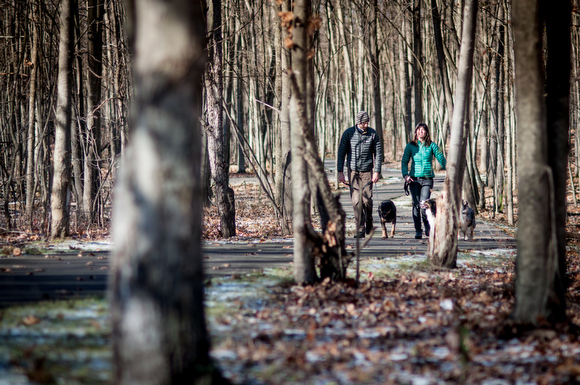 After completing a four-day, 27-hour dog walking certification course run by San Francisco-based company Dog Tec,
Nature of the Dog
's co-owner Luke Moord is now the first and only officially certified dog walker in Grand Rapids.Dog Tec's "
Dog Walking Academy
" came to the MVP Sports Spot at 3701 32nd St SE July 31 to Aug. 2, arming participants with not only professional dog walking certifications, but also information on marketing and business techniques specific to a dog walking organization, as well as education and training about canine behavior and first aid."We went in that direction just because it's a reputable source," Moord says. "It's the only one around, but they also teach a lot of positive dog-related training practices."Originally started in 2011, Moord's wife Jackie opened Nature of the Dog under the name Jackie's Walk: Grand Rapids Dog Walking Service. The name change came in January, when Jackie became pregnant and Luke took over the bulk of the dog walking, so they both wanted the new name to reflect the partnership behind their business.
It didn't take long to fall in love with his new role, Moord said.
"I grew up with animals, specifically dogs, and just loved kind of the interaction of learning more about the dogs," he says. "In terms of a career choice or vocation, I really kind of wanted to do something where I'm moving and I'm active, and not only that, but I'm actually outside interacting."
The operation has been steadily growing since 2011, and Moord says they're now walking between 15-20 dogs on a regular basis and have expanded their service area to cover the majority of the greater Grand Rapids area. He says Nature of the Dog has and will walk dogs in neighborhoods as far north as 3 Mile and as far south as 44th Street.
"We really try to stick to the highway systems when we're out of downtown," Moord says, adding that if someone lives a few miles off the highway, they do make exceptions and try to work with customers as far as the service area is concerned.
However, one of the most important changes Nature of the Dog is making to its customer policy is a simple but significant one as far as Moord is concerned: customer commitment.
What that means for customers is they will have to sign on for the dog walking service at least twice weekly, with prices ranging from $17-$30 depending on whether it's a 30- or 45-minute walk and how many dogs require attention.
"We commit ourselves to our clients and really ask for a commitment from them," he says. "A big piece of that was asking them to stay on with us. If we're going to take you on as a client we're going to reserve a spot with you in our schedule, so we need to know you're committed to us."
Moord says the trouble with drop-in visits is not just limited to scheduling purposes, but also doesn't allow he or Jackie to foster the kind of relationship with a person's dog that allows for a productive walk or interaction.
Nature of the Dog is currently in the interviewing process with intentions to hire a third employee to join their team – a sign they are not only poised for growth, but also committed to growing here in Grand Rapids.
Writer: Anya Zentmeyer, Development News Editor
Images courtesy of Nature of the Dog
https://www.natureofthedoggr.com/wp-content/uploads/2015/04/LogoBlack.jpg
0
0
Nature of the Dog GR Dog Walking Company
https://www.natureofthedoggr.com/wp-content/uploads/2015/04/LogoBlack.jpg
Nature of the Dog GR Dog Walking Company
2014-08-08 23:53:40
2014-08-08 23:53:40
Nature of the Dog receives first dog walking certification in Grand Rapids!